Private Detective Manchester
EJM Investigations is a private detective agency based just north of Manchester in the city of Preston. However we have private detectives and process servers based in the Manchester area ready to assist clients with all their investigatory and process serving needs. We offer the full range of typical private investigation services such as matrimonial surveillance, tracing missing persons, process serving and fraudulent sick leave, as well as more specialised services such as vehicle tracking, counter surveillance and de-bugging. As well as being private detectives we are also highly experienced process servers.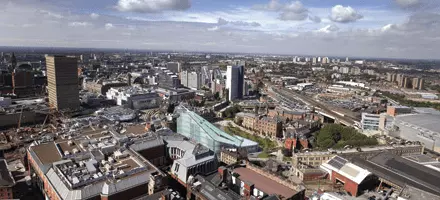 Private Investigator Manchester
We are able to deploy detectives and process servers who are based in Manchester and regularly work there. Thus giving the client peace of mind that we have full utilisation of someone with local knowledge.
Case Study - Manchester

Our Manchester based process servers were instructed by a firm of personal injury solicitors to assist in the service of a claim form on a business owner.
It was an unusual case in that the court insisted on personal service on the company director at his home address. An attendance was made at the address on record, which was in the Stockport area of Manchester. Here our process servers were informed the person we were seeking had left some 8 months previous, and was believed to reside in Manchester city centre.
Our Private Investigators began trace enquiries to locate a new address. However after a month little progress was being made, with all reports leading back to the business address. We consulted with the client who requested we didn't attend there and carried out further enquiries. Using the power of social media, our Manchester private detectives were able to locate a person with bad feeling towards the respondent. This person was tracked down and spoken to by our investigation agents. He confirmed the person we sought was residing at the business address in Manchester city centre.
The papers we had, had to be served with a clear 2 weeks notice and it was the last day of that time when we got the all clear from the client to attend the premises.
The information our detectives had uncovered was good and we found the respondent living in a large, luxurious caravan at the rear of his business site. The respondent was served with less than half a day to spare!
Although a long, drawn out enquiry, the client was happy to pay our process servers fee as they could now get a final court date in their claim for a 6 figure sum.
Sometimes clients specify to us that the subject is popular, or well known, and they have concerns the agent would know them. All our agents are professionals and would not get involved if there was a potential conflict of interest, however, if preferred an out of town investigator can be deployed.
Case Study 2 - Manchester

Our investigators were employed by a Manchester based client to undertake surveillance on a former employee. The employee in question was to move to a rival firm, and part of the contract was that he could not do this within 6 months of finishing with the client's firm.
A cost effective investigation template was agreed with the client which allowed for enquiries to be carried out over a month long period. Over the time period we were able to put together a large file documenting the subjects movements. The subject was very active and regularly went in and out of the city.. At no point did he have any contact with anyone from his new employer other than a meeting which he had already informed his previous employer of.
In light of this, our client was fully assure that nothing untoward was going on. The important thing here was that we had photographic evidence of the subject at key times, which put the clients mind at ease, and allowed them to be assured that if we said he was somewhere, we could prove it.
The range of investigation services and process serving is offered by our private detective agency throughout the entire Manchester area including (but not limited to) Salford, Trafford, Stockport, Tameside, Prestwich, Eccles and Manchester city centre.
Case Study 3 - Manchester

With the wealth of information available to most people via the internet, it is common we are only contacted by private clients at a point they have exhausted all the basic checks.
This was the case when our private detectives in Manchester were approached by an individual wanting t contact some long lost family members.
There was a possibility of inheritance money so it was important we were thorough with our investigation. The first job was to trace 2 brothers whose last address was in the local vicinity of the client. This was quickly done and confirmed with a discreet visit by one of our investigative agents.
The next part was much more complicated in that the deceased had a son (also deceased) and paperwork indicated he had a young daughter. We had the daughter's first name and date of birth and a potential first name for the mother. Preliminary checks by our missing people investigators could not trace the girl in the Manchester the client lived in. Nor did it appear she had her father's surname.
Some consideration was given to bringing in a genealogist, however we first decided to let our detectives cover some basic checks. After double checking the clients paperwork we discovered an unexplained link to the South East of the country.
Checks on the birth register showed only on girl born in the period in question with the same name, and who also had her mother's surname. The mothers surname also matched the information our private detectives had on file. It was very quickly confirmed were the girl lived and the mother was happy for us to pass her details to the client back in Manchester.
Some of our services are outlined below but please contact us on 0161 706 0135 to discuss your exact requirements. Our business model is built around finding a bespoke solution to our client's problems that meets their needs in the most cost effective manner. As well as offering some of the most competitive rates around, we are also able to offer fixed fee packages for various services.
There are a number of reasons clients initiate trace enquiries but whatever the reason our team of private detectives and process servers will have the tools to ensure a result for our clients.
Despite the huge influence of social media some people lose contact with old friends and require professional help to locate them. Our private investigators will utilise a number of methods, with both online enquiries and door to door investigations being used where needed.
For evasive debtors we are often instructed by both private and commercial clients.
For evasive debtors we are often able to make use of a much wider variety of electronic databases to ensure a speedy result and a much lower cost.
Our process servers are well practised at locating respondents who may be being evasive, or have moved away. Our nationwide network of investigators ensuring that even if a person has left Manchester, we are still able to track them down. Once located we would then utilise a process server from our nationwide network to effect a speedy delivery of the documents.
We always carry out due diligence to ensure reasons for a trace are legal, and ethical. Unfortunately there may be circumstances where we are unable to undertake trace enquiries. In other situations we may refuse to pass on the subjects details, but would happily pass your details to the subject. This would be discussed and agreed before any work was commenced.
Our Manchester based private detectives are trained for surveillance in city centres, towns and countryside.
We undertake work including cheating partners, employee absenteeism and fraudulent injury claims. There are many situations where surveillance can be a valuable resource. We recommend the deployment of a surveillance team in most cases, but can deploy in smaller numbers for clients on a more restricted budget.
Our private detectives will produce a full report backed up by photographic/video evidence which is admissible in court. If necessary our Manchester private detectives will attend court and give evidence to back up their report.
We are happy to take instruction from any Manchester based companies, solicitors or private individuals and will cater our service to meet your needs in the most cost effective manner.
EJM Investigations makes use of a technical engineer to carry out debugging operations. This is a very specialised area, needing specialist equipment to guarantee a proper job. If requiring this service always remember to contact us from a phone you know to be safe.
EJM Investigations' Manchester based Process Servers are able to carry out service of a full range of legal documentation. Whether the papers were issued by a county court, the high court, or even from another country, our process servers in Manchester will work hard to ensure they are quickly served. We can even collect the documents from court when necessary. Our process servers have experience in serving all kinds of documentation and will provide the statement/affidavit of service in the appropriate format. Thanks to a nationwide network of skilled process servers EJM Investigations are able to assist clients from Manchester with process serving across the UK.
Process Serving is an important part of the legal system, and correct service of documents is important if the courts are to accept the other party are aware of the proceedings, and have received all relevant paperwork. In the UK Process serving is unregulated and can effectively be carried out by anyone over the age of 18. This may not be an issue in most cases, but could cause problems if the Respondent is evasive or difficult. Our Manchester based Process Servers are experienced and knowledgeable. They know, not just how to serve someone personally in a professional manner, but also what methods of sub service are permitted, which varies depending on the nature of the papers being served, the area of law, and any directions by the judge. Our Process servers will also ensure the correct format of Statement of Service, Certificate of Service or Affidavit is used.
We take on difficult cases involving evasive and violent respondents. We are also happy to assist and advise with both serving papers abroad, and process serving of international papers in the UK. Our all inclusive service from trace to serve to statement means you don't need to look elsewhere for process servers in Manchester.
EJM Investigations are often instructed by local and national businesses who are having issues with employees. Our surveillance operatives have worked undercover to assist in cases of internal theft. We also regularly deploy our trained private investigators to observe employees who are claiming sick pay but believed to be in employment elsewhere. This type of evidence can be even more crucial when the reasons for the employees sick leave is an injury sustained at work, and a compensation claim is being issued. Finding evidence of an exaggerated injury, or proof the employee is working a similar role for another company can reduce the claim, or even show the injury was fabricated.
Many firms of solicitors, both within Manchester, and across the UK, instruct EJM Investigations. Whilst the majority of these instructions are for the delivery of legal documentation, commonly known as process serving, there are also other reasons we may be instructed. Our detectives are sometimes asked to assist in criminal defence matters. Whether it is tracing a witness, taking a witness statement or a total review of prosecution evidence, and subsequently gathering evidence to assist the defence, you can be assured EJM Investigations will always be thorough in their enquiries. We are fluent in taking both civil and criminal statements. For any law firm looking to instruct us for process serving in bulk we are willing to offer a discounted fixed rate fee. We are able to carry out process serving instructions across the UK often at short notice.

Map
Our highly experienced process servers carry out the following:
Fixed fee process serving

Same day process serving

Service of county court forms

Service of high court forms

Service of summons
We are happy to cover the following areas:
| | | |
| --- | --- | --- |
| Ancoats | Crumpsall | Northenden |
| Ashton Under Lyne | Didsbury | Oldham |
| Beswick | Fallowfield | Openshaw |
| Blackley | Gorton | Rochdale |
| Bradford | Hulme | Rusholme |
| Burnage | Levenshulme | Salford |
| Cheetham | Longsight | Stockport |
| Chorlton-cum-Hardy | Miles Platting | Stretford |
| Chorlton on Medlock | Moss Side | Swinton |
| Clayton | Moston | Whalley Range |
| Collyhurst | Newton Heath | Wythenshawe |