Private Detective in Rochdale
People often contact us for private investigation and detective services, process serving, surveillance and pre-sue reporting in Rochdale. Some have previously worked with private investigators and others are entirely new to the process. Working with a private detective can be a daunting experience, which is why clients in Rochdale and beyond trust EJM Investigations for the best possible private investigation services for solicitors, corporate and private individuals. We endeavour to provide a clear picture of costs and charges from the outset, allowing the client to set the budget.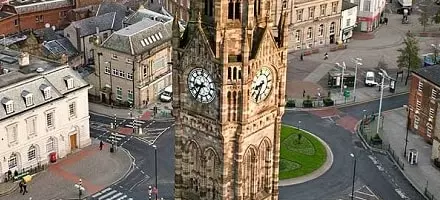 Private Detective Rochdale
Let us speak to you about Rochdale private investigation services, or our services available throughout the rest of the UK and where necessary we can carry out instruction abroad., with our discreet and professional approach to ensure your privacy throughout the process. Whether you're tracking an unfaithful partner, checking why an employee keeps missing work or looking for bugging devices at home or in your office you can expect a legal, honest service at a price that you can trust.
We regularly cover the whole of the UK with our trained private investigators able to move around the country to make sure that their job is done properly. Our investigators use a combination of traditional and modern techniques to gather evidence, create reports and to uncover the truth. We don't just rely on technology to carry out investigations, however we do embrace it and often use it when it can help lower the cost of investigations. EJM private investigators are also comfortable working in difficult situations, tracing debtors and approaching people that might not be entirely receptive.
Concerned about fraud? In need of thorough background checks, or looking to gather witness statements? There can be only one choice for private investigations in Rochdale.
Case Study - Rochdale

Contact by a husband from the Rochdale area, our private investigators were tasked with keeping the landlady of a country pub under surveillance whilst her husband was away. Given the nature of the area this wasn't going to be an easy few hours sat in the car!
It was November and the weather was appropriate for the time of year. After a 3 mile walk across muddy fields in the rain our detective plotted up in a hedgerow.
Shortly after midnight last orders had been called and the pub emptied.
It wasn't long before a local farmer made his way to the pub and was let in a side door. Our Manchester private investigator made his way up to the pub. From here he managed to get video of the landlady and her farmer friend canoodling in the corner with a few drinks.
Shortly after they made their way upstairs. Our detective stayed on plot and a couple of hours after was able to film the farmer leaving the property.
Although not pleased with what he heard, our client was pleased with the quality of the work our private detectives carried out, and we look forward to being instructed by him, for our process servers to serve his wife with the divorce papers!
Case Study 2 - Rochdale

Asked to carry out process service of documents relating to bankruptcy we made an attendance at the respondents address. The house had been converted to a business and the occupants said the person we were looking for was the landlord, but no longer lived in Rochdale.
This may be enough for some process servers to walk away, but not the ones at EJM Investigations. We persevered and were eventually able to make phone contact.
Although the respondent wasn't willing to disclose his new address, he did agree to come and meet us for service as he did not want documents posted at the address wee had, or for his tenants to be aware of his financial difficulties.

Contact EJM Investigations
New to employing the services of a private detective? Looking for fast, efficient and reliable process serving? Searching for a missing relative or chasing a debtor? Speak to EJM Investigations by phone, by email or using our contact form for a fast response to your query.

An investigator will be happy to talk through your specific requirements with total and complete discretion, giving you the peace of mind that you need with service that you can trust.

EJM Investigations is a private detective agency covers all areas of Rochdale including: Heywood, Littleborough, Middleton, Milnrow, Newhey, Wardle