Below you will find a variety of testimonials and feedback from our clients.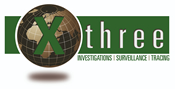 X3 Investigations

I wouldn't hesitate in recommending Edmund and his team of investigators, they are always punctual, professional and they get the job done.

www.x3surveillance.com

Maguire Family Law

I have used EJM Investigations for several process serves and have found them to be incredibly reliable. Edmund responds to emails quickly, jobs are done fast and their prices are very competitive. I would not hesitate to recommend them to any other professionals looking for assistance.

R Webster, www.family-law.co.uk

Fylde Law Solicitors

Efficient, good quality service.

www.fyldelaw.co.uk

Alpha 1 Legal Services

In all my dealing with EJM I have found them most professional and would not hesitate to recommend them to colleagues.

Paul Redhead, www.alpha1legal.co.uk

Grey Wolf Investigations

Very capable and professional individual. Highly recommend.

James Bourne, www.grey-wolf-investigations.co.uk
Alpha Detective Agency Ltd

Edmund Magdziarek of EJM Investigations has undertaken several inter-agent Process Serves for us in the last year. We have been happy with the quality of the work received and the timely reports as to action in progress have been useful too. We would recommend EJM Investigations to other Investigation firms and Solicitors alike.

David Clare, www.alphadetectives.co.uk

Intime Investigations

Highly recommended, we will definitely be using this company again in the near future.

Leon Hart

Private Client

I found that you were polite and easy to talk to at the meeting and during your visit. I had no previous experience of meeting someone in your line of work, a difficult decision and a decision not taken lightly so I was very nervous. It was a good introduction into your work. Thank you for your response.

P.H.

Private Client

Please if anyone needs help with any matter, please contact this company,excellent servise, very helpful, and very good value for money,Edmund is so understanding, and very good at his job.

I.B.

Private Client

I have employed Edmund on a couple of occasions, both some detection and simply process serving. The latter was simple with Edmund as opposed to constant errors experienced with other providers. His report on his detective work was comprehensive, detailed and provided good visual evidencing. We have built a relationship of trust. That is very important to me based overseas. When Edmund says it will happen I can be assured that will be the case, including that he is not at all phased by very short notice on occasion. I will certainly continue to use Edmund as and when the occasion demands.

M.A.