Liverpool Private Detective Services
Based in the North west city of Preston, EJM Investigations is able to offer a comprehensive list of investigative and legal support services throughout Liverpool and the wider Merseyside area. We support solicitors with services such as investigation work, process serving, statement taking and trace enquiries. We already have local government clients in the North West and assist them regularly with surveillance and Process serving. We also offer our full range on private investigation services to the general public.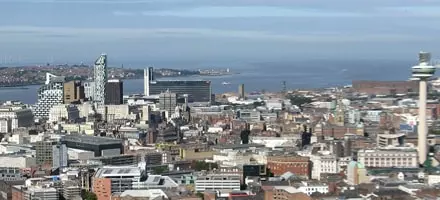 Private Investigator for and around Liverpool, Merseyside
Although EJM Investigations is based in Preston, we utilise the services of local freelance detectives to carry out enquiries, ensuring that local knowledge of the Liverpool area is included in the investigation. These private agents are always of good repute ensuring you have peace of mind that a professional investigation will be carried out.
Our fee structure is one which is competitive, but also flexible to try and ensure we can assist most clients, regardless of budget. We provide a professional service and are not a cheap private detective agency providing a cheap service.
Often clients are worried that we may know the subject and tip them off. Rest assured that all private detectives at EJM Investigations are true professionals who would not compromise themselves or a case. However we will bring in agents from another area if preferred.
As well as Liverpool city centre our experienced private detectives cover other areas in and around Merseyside including, Saint Helens, Warrington, Runcorn, Widnes and Birkenhead.
Details of some of the services offered are outlined below, however we encourage you to contact us with any issue and we will endeavour to provide any support we can.
Often seen as the main part of a private investigators work (although it isn't) EJM Investigations will utilise the deployment of surveillance agents when needed. We follow RIPA guideline's ensuring the use of surveillance is both necessary and proportionate.
Footage and photographs taken will be date and time stamped to ensure all evidence gathered is court admissible, should it be needed.
We undertake surveillance for employers looking into moonlighting staff, people faking injury, either to get time off work, or looking for a compensation claim, and also do matrimonial surveillance.
We are happy to take instruction form any Merseyside based companies, solicitors or member of public, and will aim to put your mind at ease from first contact.
Case Study - Liverpool

Our Liverpool private detectives were contacted by a lady from Liverpool with concerns about her new partner. After sending him money via BACS she became aware he had a bank account in a different name. He told her this was a dodgy account, and in a state of panic, she contacted us to find out a little more about this man.
After some initial enquiries showed no male of the given name in the Liverpool area we decided that after they next met we would conduct surveillance using a local private detective to ascertain this man's address.
After getting this man's address we were able to uncover his actual name, which turned out to be the same as the name on the bank account.
Further investigation work soon discovered this man had a wife, children and one or two other women in his life.
End result was one grateful, newly single client.
EJM Investigations receives numerous requests to trace individuals for many reasons. Evasive debtors, lost contacts and missing persons are just a few.
We always start by ensuring the reasons for the trace are genuine. We then offer numerous solutions, from no trace no fee searches of our databases to local doorstep enquiries if needed.
When carrying out trace enquiries it is never known how far the missing person may have moved. Therefore we are always prepared for enquiries to lead us out of Liverpool, or even in extreme cases, out of the UK!
If the reason for the trace is debt related, then it's always important to ensure costs don't exceed the debt being chased. EJM Investigations' detectives will stay in close contact and ensure a staged investigation can be stopped at any point the costs become prohibitive.
This is an extremely complex area. De-bugging requires the need for a technical countermeasure expert, not a private detective. EJM Investigations has such a person based in close proximity to Liverpool. Should you feel you may be compromised always remember to contact us from a safe location, and we will endeavour to put together a solution and ensure you get your privacy back.
EJM Investigations are quickly building a reputation as to being able to serve process on individuals who are proving particularly evasive. Our network of process servers do as much background research as possible in these matters to try and ascertain a good time and place to effect service. We get a lot of clients who are without legal representation and handling the case themselves. They usually start by employing the court bailiff to attempt service of legal documents. We find that our rates for a successful process serve are usually much better, an our process servers are usually able to serve even the most awkward of respondents.
It is important to use a process server where proof of service is required as their evidence in court is often more credible than that of someone who carries out the serve themselves. Mainly because a Process Server has no reason to lie, and a lot more to lose if they do. In many cases now the courts specify that one party must not serve the opposition themselves, meaning that employing a professional process server could be imperative to the success of your case.
Our Liverpool based process servers are happy to assist with the service of the following:
Fixed fee process serving

Same day process serving

Service of county court forms

Service of high court forms

Service of summons'
And many other types of important documentation.
EJM Investigations' Process servers can carry out urgent instructions and are happy to deal with aggressive respondents. Our Process servers are happy to assist the public, law firms and Local Government Authorities. If you require the assistance of a process server in Liverpool, or anywhere across the UK, contact us today.
Case Study 2 - Liverpool

Our Process servers were asked to assist with the service of divorce documents on a male in the Liverpool area. Our first attempt was successful; however that was not the end of the matter. The male in question was to become particularly difficult and refuse to engage with the process.
In the end our process server had to attend and serve the gentleman 4 times. Each time faced with more aggression and more evasiveness.
The 3rd time we had to effect service of court documents, the papers carried a penal notice. This meant that it was crucial they were personally served. The male came to an upstairs window and launched a tirade of abuse at our process server. Our man remained professional and explained the content of the Order, in particular the penal notice. He then stated he would leave the Order in the letterbox. Unfortunately the letterbox had been sealed so we left the Order in the porch, and explained in our affidavit the reasons for this.
The male didn't comply with the Order, although he did send correspondence which acknowledged he had received it. As such our client applied for a committal order.
On the first attendance our process server was happy the male was home, however he could not get an answer at the door. After returning an hour later he found the door knocker removed! A discussion with the client got us authorisation to conduct a short period of surveillance around the time the male got home, and we effected service personally. Although once again our process server faced substantial abuse and threats
EJM Investigations are happy to have our Private detectives assist with criminal defence investigations.
We are often instructed by solicitors to assist in evidence gathering, tracing of witnesses. We can attend scenes and obtain photographs and sketches. We are also able to assist by taking witness statements and if necessary serving summons' to get the witness to court.

Map


We are happy to cover the following areas: