Unlike most detective agencies, EJM Investigations don't use private investigators to carry out bug sweeps. We have our own engineer specially trained in this field. He is trained in some of the industries most advanced electronic counter-surveillance and debugging equipment enabling him to locate all types of electronic listening devices/bugs, telephone taps, hidden video, radio and microwave devices.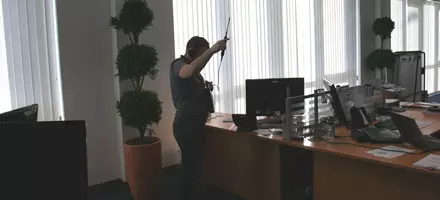 If you susepct your place of work has been monitored, we have state of the art debugging equipment that can identify whether this is true or not
Our technical experts have the bug sweeping and detection equipment and experience to carry out complete counter surveillance sweeps in the following locations:
Home - We can check for listening devices, covert cameras, computer monitoring etc.

Office - Calls us now to have your phones, computers, electronic devioces checked.

Factory - Our expert can carry out a full sweep of the factory floor as well as offices, staff areas etc.

Vehicle (car and van) - We will check your vehicle for covert listening devices as well as tracking devices.

Micro devices fitted in clothing - An extremely high tech area, but not a challenge for our experts.

Electronic equipment such as phones, radios, televisions, clocks, lamps etc. - If its electronic it can be bugged. Our experts can ensure peace of mind against such intrusion.
Modern technology allows listening and tracking devices to be hidden in everyday devices. Our expert is able to locate any device thanks to a mixture of electronic aids and physical searches.
REMEMBER: If you believe you have been bugged DO NOT contact us from any area you think may be compromised. It is essential not to warn the potential listeners you are on to them