Private Detective Agency St Helens
If you are in the St. Helens area and find yourself in need of a private investigator or a process server then EJM Investigations Liverpool office should be your first point of contact. Already used by solicitors and government agencies in the UK, and regularly receiving instruction from international clients, EJM investigations can boast being one of the best private detective agencies around.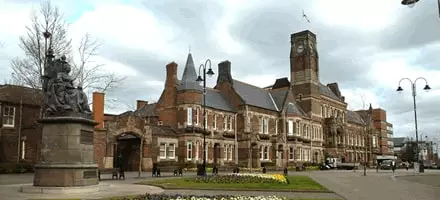 The concourse in St Helens - Private Detetive serving the areas witin and nearby
Our highly trained private detectives work in Saint Helens as well as the surrounding areas of Skelmersdale, Formby, Liverpool, Birkenhead and also much further afield in Lancashire and Manchester. We are also capable of providing our services across the UK and internationally.
If our impressive client profile isn't enough to convince you then our great reviews on facebook, google+, yell and freeindex, plus many other sources, may help. Futhermore, our membership of the World Association of Private Investigators shows we are highly rated within the private investigation industry. Without any regulation in the industry, any person off the street can charge to assist you and label themselves as a private investigator. By using a firm such as EJM Investigations, you can be assured our private detectives are professionals with years of trading history.
Local and County councils use the services of EJM Investigations private detectives to carry out surveillance and also employ our process servers to assist with delivery of legal documents.
Law firms use our vast range of services. Not just requiring private detectives, solicitors also use us for process serving in St Helens, Liverpool, and across the UK. In many instances this is done on a fixed fee arrangement. They also instruct us for statement taking, tracing witnesses and surveillance. Many of our private detectives come from a police background and are able to assist with taking statement in both criminal and civil matters.
Business owners use us to assist with problem employees. Those on the take, fraudulent injury claims, and moonlighting. Our highly experienced private investigators are able to help in gathering evidence of employee wrongdoing.
Private clients often instruct our private investigators us to track down missing persons and catch out cheating partners. Thanks to our kind and compassionate manner, we are often told we make what can be the worst experience of someone's life, a little more bearable.
Case Study - St Helens

EJM Investigations received instruction from a solicitor based in St Helens to carry out a process serve in the local area. The instruction was to serve a statutory demand on an individual following her failure to pay an amount owing under a court judgement from the county court. Initially there were a number of issues catching up with the respondent. Our process server made enquiries with the neighbours, but unfortunately it appeared the respondent was rarely home so it was just a case of keep trying. (Note that it is acceptable to letterbox the demand following delivery of an appointment letter, but in this situation the client was keen on personal service, and agreed to pay more for this).
When our process server eventually caught up with the respondent it transpired she was a very pleasant person, and was happy to provide contact details for future serves. As is normal with Statutory demands, the debt wasn't sorted and a bankruptcy petition was issued. This was served in one visit thanks to the cooperation of the respondent.
Case Study 2 - St Helens

We were approached by a private client from the Merseyside area. He had been ripped off by a lady who had then left the known address. He had instructed another firm of investigators to trace the lady in question and had received 3 possible addresses. One in Knowsley, and 2 in Saint Helens. Despite his attendances any knowledge of the subject was denied at the addresses in question. As the other firm didn't provide surveillance, the client came to us to carry out a period of observations at each address to establish if the subject visited. We did advise allowing us to try a no trace, no fee search, but he was keen to move quickly and opted for surveillance. Unsurprisingly it was quickly established the subject didn't reside at any of the addresses.
We then carried out our own trace, and whilst none of the other addresses came up, a new one in Haydock did. A quick late night visit by our private detective showed the subjects car on the property's driveway. A mornings surveillance established a workplace for the subject and the client was able to start proceedings to recover his money.

The client did mention to the other investigators about our findings, and was refunded, as well as receiving an explanation that the subject had links to the other addresses from some false identities she used. Nothing in our enquiry supported this.
It is impossible to write an exhaustive list of all the reasons people approach EJM Investigations. But when it comes to instructing a private detective or process server EJM Investigations are always worth a call. A friendly, listening ear is always available to talk through your problems, and see if there is a private investigation service within our skill set to find a solution to your problems. We are available to take on new cases in and around St Helens.
Like many other detective agencies, the trained professional investigators at EJM Investigations are also skilled process servers. St Helens, Liverpool, or anywhere across the UK, our dedicated staff will endeavour to have your highly sensitive court documents hand delivered to the recipient at the earliest opportunity. We are available on many occasions to attempt same day process service. We are familiar with a full range of court document types, as well as the appropriate format of statement or Affidavit. Whilst there are dedicated process serving companies around, at EJM investigations we believe instructing a private detective agency to carry out service of legal documents on your behalf offers much better value. We are able to quickly initiate trace enquiries for evasive respondents, or if necessary carry out a period of surveillance to locate the person our process server needs to serve the papers on.
If you wish to instruct a private detective or a process server in St Helens then call EJM Investigations on 0151 662 0039.
We also assist in the following areas:
Haydock, Newton-le-willows, Burtonwood, Clock Face, Knowsley and Prescot