Private Investigators serving Blackpool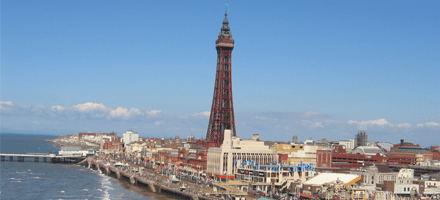 Private Investigator Blackpool
With access to a dedicated team of private detectives, investigators and process servers EJM Investigations can provide a cost effective and efficient service to those in Blackpool and the Fylde coast, helping to locate missing persons, track debtors, provide surveillance and more. We are also able to assist in other parts of the UK at no extra cost.

All fees are explained before we begin so there are no hidden charges. We offer options on budgeting such as setting a number of hours, or reports can be made when certain fee limits are reached.
Although there is no current licensing our investigators and process servers undergo training to ensure they work within the law. It is important that any private investigator instructed is able to produce and present evidence in such a way that it is admissible in court. Otherwise it is potentially worthless.
Our team of investigators and process servers are highly experienced in working across a range of environments. If you need to trace a runaway through the rundown back streets of the town centre, or carry out surveillance in the leafy suburbs of Lytham St. Annes we will have someone to assist.
Seaside resorts have high numbers of seasonal visitors which present a unique challenge to investigators, the vast knowledge of our private investigators and process servers ensures this will not be a hindrance in getting our clients the right result.
Case Study - Blackpool

A law firm based along the Fylde coast contacted us to assist them in serving divorce papers on a particularly evasive respondent.
Armed with a photograph and the information that the respondent owned a distinctive car that he would not allow anyone else to drive, our process server set to work.
Enquiries revealed that the respondent never answered his door to callers he wasn't expecting, although he did go out around lunch time every day for approximately half hour. Our Blackpool process server made a lunch time attendance and noted the car was missing off the drive. He managed to speak to the respondents daughter who informed him that her father was on a long term stay in Spain and there was no point calling back any time soon.
Our man didn't believe this, especially as the drive was dry on a wet day, suggesting the car had recently moved. With this in mind our process server parked nearby to eat his lunch. Sure enough the respondent was spotted within 5 minutes returning home, were he was duly served his divorce as he stepped from his car.
Case Study 2 - Blackpool

We were contacted by a female from the Blackpool area who believed her husband was having an extra marital affair. After speaking with the client it was apparent that the cost of surveillance was going to be prohibitive. Her husband travelled the country for work and often stayed away. It transpired the client had occasional use of her husbands car, and that is where the investigation began.
The client provided access to the car and our agent was able to retrieve an address list from the sat nav. We were soon able to determine an address that didn't coincide with work, or any overnight stay.
It took a few week but as soon as the husband was working in the vicinity we deployed an agent to watch the address. It wasn't long after 5pm when the husband rolled up at the address and our agent was able to photograph the husband being warmly greeted at the door by another woman!
Case Study 3 - Blackpool

It is not often our private detectives and process servers complain about a job being made easy but this was one case.
We were instructed to track down a particularly evasive respondent in Blackpool. Court bailiffs had already attempted to serve legal documents on him and had failed to pin him down. After meeting with the client an unusually large budget was put in place.
Initially we decided to make numerous visits to the respondent's contacts to try and put pressure on him to come forward and be served. This failed and we had no luck getting him at his home address in Blackpool, despite surveillance and monitoring measures being put in place.
At this point the client advised they knew the respondent would be visiting an address in Spain at a set date and time and requested our process server travelled there to effect service. Our process server had packed his sun lotion and passport and was ready to head off for some sun, when an unfortunate incident occurred.
The 2nd process server we had pursuing the respondent stopped to fuel up in Blackpool and as he was about to leave, the respondents car drove onto the forecourt. A quick check of the picture supplied by the client confirmed the right person was driving so our process server got the papers from his car and effected service there and then.

Contact EJM Investigations
Our Blackpool based private detective agency can carry out all investigatory and surveillance works you require including process serving in Blackpool. We look forward to hearing from you in due course.
We also serve the following areas local to Blackpool - Fleetwood, Thornton, Lytham, Lytham St Annes, Warton, Cleveleys