Private Investigations and Process Serving In Chester
If you are based in, or near Chester and need the services of a private detective agency, then you can call upon the assistance of EJM Investigations. Our teams of private detectives and process servers offer a full range of services throughout Chester, the wider Cheshire area, and even across the UK. We will always endeavour to provide a cost effective service, and tailor any investigation to suit the client's needs.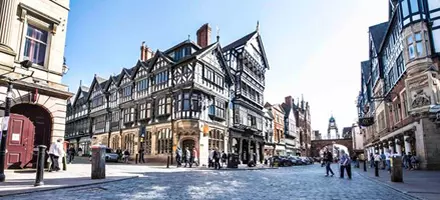 Chester private detective agency
At the first mention of a private detective many people think of cheating partners and matrimonial surveillance. Whilst we happily offer these services in Chester, we also offer much more. Our trained surveillance operatives can conduct discreet surveillance for many reasons. Chester employers may wish to watch staff members who are off work and on sick fraudulently, solicitors in Chester may require a local process server to deliver urgent legal documents, or someone may just wish to try and trace an old friend. Whatever your requirements EJM Investigations Chester branch are happy to assist.
EJM Investigations currently offers private detective services in Chester from our Liverpool office, but will utilise a team of local investigators to ensure that during any case, the people on the ground are familiar with the Chester area.
We don't currently offer a price promise for private investigation or process serving in Chester, but many clients often find our quotes to be the cheapest, thanks to our flexible fee structure, and bespoke case management.
Case Study - Chester

Our investigators were contacted to trace and serve legal documents on an individual in the Chester area. We were given a name and 10 linked addresses including some in Deeside, Broughton and Saltney. The name of the subject was quite unusual so we attempted to do a trace. Unfortunately no results came back on the trace for the given name, anywhere in the UK!
We did find the person on social media but were warned he would be unlikely to respond. Nevertheless we also attempted to initiate contact via that method. As the matter was urgent we could ill afford to waste time awaiting a response via facebook, so we quickly deployed to the last known addresses. We got through 3 or 4 of the addresses when we finally met with someone who admitted to knowing the subject. They informed us that the last they knew, he was homeless and living in a local park. They also informed us he used a fake name, but only knew his real forename.
Using that information we did checks on the previous occupants of known addresses and came up with a potential full name and Date of Birth.
In the time taken to do this the subject got back in touch with us on facebook and initially agreed to meet our process server in Chester. Ultimately he failed to show so we sent him copies of the documents via facebook messenger, which he confirmed receipt of. A statement detailing our efforts was submitted to the courts and the judge accepted this was good service, and the case went ahead.
Case Study 2 - Chester

We were approached by the manager of a delivery firm based near Chester. They had a driver who had suffered a back injury at work. As a result he could not lift, nor stay sitting in a static position for any length of time. This meant he was signed off from work being unable to either load/unload, or drive for any distance. Rumours were circulating at the workplace that this person was frequently seen out of his house and of more concern to the employer, enjoying himself at his local pub.
EJM Investigations deployed a Chester based surveillance team to monitor the employee's movements. This was to be a case which yielded a quick result. Just before lunch the subject was seen to leave home and walk to his local pub, which was only ten doors down his street. He did appear to have some discomfort, and needed the aid of a stick. He was only at the pub for an hour where he enjoyed half a glass of a soft drink. During that time he was seen to be both sitting and standing for short periods. He then returned home, again with some discomfort clearly showing.
He repeated this venture twice more during the course of the day. Our clients willingness to fund a team of surveillance agents meant we were able to get good imagery of the subject both walking, and in the pub.
Upon receiving our report the client reviewed the medical notes and was happy that the employee was doing no more than he stated he could manage. In fact, short walks were encouraged by his doctor.
Thanks to EJM Investigations surveillance team, the client was given peace of mind that their driver was not taking them for a ride. And thanks to out discretion no harm was done to the relationship between the employer and employee.
Amongst our current client lists we have:
Businesses

Solicitors

Local Government

Private individuals
If you live in Chester, Christleton, Broughton, Huntington, Deeside, Mickle Trafford, Croughton or Saughall, and require help from a Private detective agency then contact EJM Investigations on 0151 662 0039 today.