Private Investigations and Process Serving In Chester
If you are based in, or near Chester and need the services of a private detective agency, then you can call upon the assistance of EJM Investigations. Our teams of private detectives and process servers offer a full range of services throughout Chester, the wider Cheshire area, and even across the UK. We will always endeavour to provide a cost effective service, and tailor any investigation to suit the client's needs.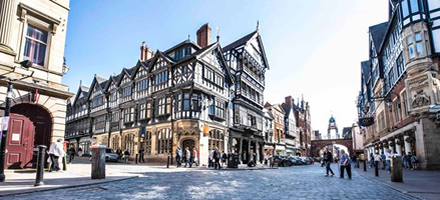 At the first mention of a private detective many people think of cheating partners and matrimonial surveillance. Whilst we happily offer these services in Chester, we also offer much more. Our trained surveillance operatives can conduct discreet surveillance for many reasons. Chester employers may wish to watch staff members who are off work and on sick fraudulently, solicitors in Chester may require a local process server to deliver urgent legal documents, or someone may just wish to try and trace an old friend. Whatever your requirements EJM Investigations Chester branch are happy to assist.
EJM Investigations currently offers private detective services in Chester from our Liverpool office, but will utilise a team of local investigators to ensure that during any case, the people on the ground are familiar with the Chester area.
We don't currently offer a price promise for private investigation or process serving in Chester, but many clients often find our quotes to be the cheapest, thanks to our flexible fee structure, and bespoke case management.
Amongst our current client lists we have:
• Businesses
• Solicitors
• Local Government
• Private individuals
If you live in Chester, Christleton, Broughton, Huntington, Deeside, Mickle Trafford, Croughton or Saughall, and require help from a Private detective agency then contact EJM Investigations on 0151 662 0039 today.
Areas near Cheshire
Simply fill out the form below with your enquiry details and we shall get back to you.